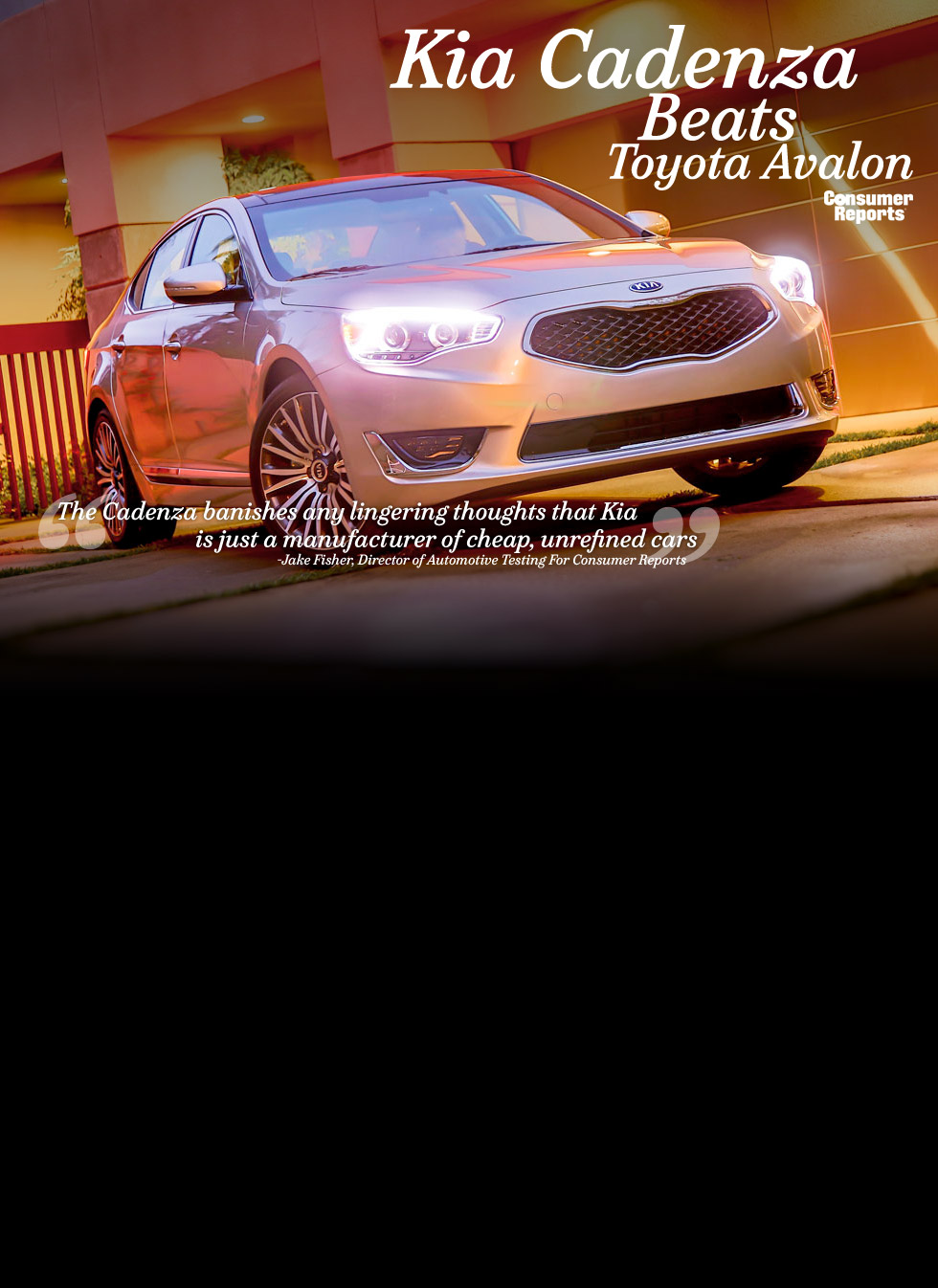 Kia Cadenza beats Toyota Avalon
in Consumer Reports list of large sedans

The Kia Cadenza debuted today in second place on Consumer Reports magazine's list of top large sedans, edging out the former standard-bearer in the segment, the gasoline-powered version of the Toyota Avalon.
Read The full Story!
According to Consumer Reports, the realm of large sedans has long been dominated by the Toyota Avalon. However, an underdog has emerged and pushed it to third for the 2014 model year. That unsuspecting full-size sedan is the 2014 Kia Cadenza. With a mold-shattering first impression, the all-new Kia Cadenza is forcing automotive enthusiasts and casual fans to take notice and reconsider Kia among reputable automakers. The Cadenza makes an immediate impact with pristine exterior styling that includes 18-inch alloy wheels, available active Xenon headlights, and a low, predatory stance. Inside, the Cadenza offers more of the same quality, with the reliable UVO voice command interface, an Infinity 12-speaker sound system, leather upholstery, and heated front seats.

Although the sleek exterior and feature-ridden interior give Kia's flagship sedan an edge, the 2014 Kia Cadenza topped the Toyota Avalon in Consumer Reports rankings, in large part, due to its performance capabilities. Fitted with a 3.3-liter V6 coupled with a six-speed automatic transmission, the Kia Cadenza achieves 293 horsepower and 255 lb.-ft. of torque. Despite its large stature, the Cadenza drives like a much smaller sedan, as it corners and maneuvers with poise and confidence. The full-size sedan effortlessly shifts gears and fluently reaches passing speeds while the ride remains composed. Get behind the wheel of the 2014 Kia Cadenza near Chicago, IL and find out why Consumer Reports has placed the all-new flagship sedan ahead of the Toyota Avalon near the top of the large sedan segment.