2014 Kia Optima
Not your average mid-sized sedan.
Shop Now
Take advantage of our great offers
2014 Kia Optima Chicago IL
The Kia Optima has been one of the leaders in Kia's movement to transform its lineup into a more refined, advanced collection of vehicles. With a mild redesign for the 2014 model year, the Kia Optima continues to carry the torch toward the next generation of Kia vehicles with its sporty exterior, energetic performance, and carefully crafted interior. As one of the staples of the Kia lineup, the 2014 Kia Optima near Chicago, IL sets the pace for the competitive class of mid-size sedans.
2014 Kia Optima Joliet IL
As is the case with many mid-size sedans, the 2014 Kia Optima in Joliet, IL features several engine options starting with the standard 200-horsepower 2.4-liter four-cylinder. Although no V6 engines are available in the 2014 Kia Optima in Joliet, IL, the 274-horsepower turbocharged four-cylinder engine found in the Optima SX trim outperforms many of the V6 options in the segment. With a seemingly endless list of interior amenities and a sporty exterior, the 2014 Kia Optima in Joliet, IL delivers on all levels for drivers seeking a new mid-size sedan.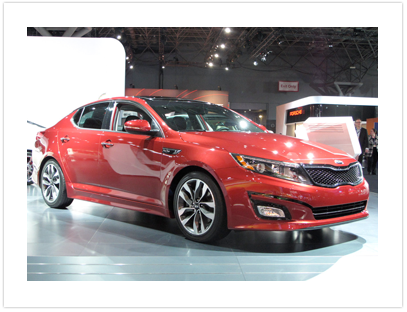 What's new in the 2014 Kia Optima?
Although the 2014 Kia Optima near Chicago, IL received a minor redesign, most of the exterior remains intact. The only significant exterior modifications from the outgoing model are the shortened airdams, available chrome strips, and a raised tail that provides a more free-flowing, athletic look. In addition to the subtle exterior touches, new LED headlights and fog lights are available on the higher trims. Inside, the 2014 Kia Optima near Chicago, IL maintains a simple design centered on the infotainment display and instrument panel. With a new eight-inch color screen and UVO smartphone integration, the Kia Optima's interior keeps pace with its major competitors. The Optima is available in several trims topping out at the new premium Optima EX-L with a Nappa leather interior.