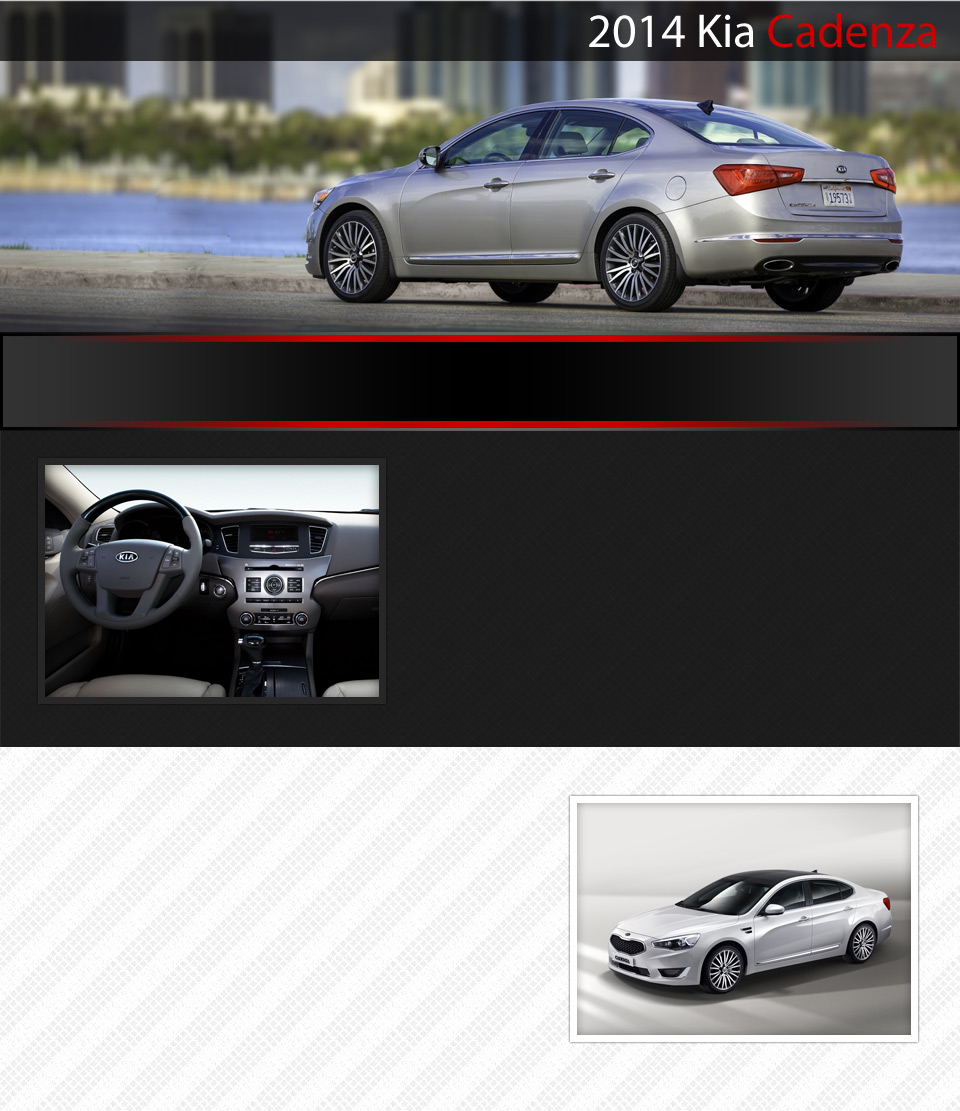 2014 Kia Cadenza Chicago IL
The 2014 Kia Cadenza in Chicago, IL is looking to be a big hit in the large sedan and luxury car market and we can't wait to see this new vehicle on our lot. The 2014 Kia Cadenza was in Chicago at the 2013 Auto Show in February and everyone was very impressed with the style, comfort, luxurious features and of course the exterior look of the sedan. The 2014 Kia Cadenza will have a single trim level that will include plenty of features and options such as leather upholstery, Infinity audio, 8-inch touchscreen and UVO voice control that will all come standard. There will be packages offered that will have some incredible features like a sunroof, adaptive headlights, and heated/ventilated seats. The 2014 Kia Cadenza near Chicago will be available at our dealership and we are sure that customers are going to love it. There are few luxury sedans on the market that are going to offer what the Cadenza will and the price will be nothing short of astounding.

2014 Kia Cadenza Joliet IL
Not only is the 2014 Kia Cadenza in Joliet, IL luxurious, but it is also the first Kia model that will have the new direct-injected 3.3-liter V6. The new engine is powerful and can put out ratings of 295 horsepower and 255 pound-feet of torque. The Cadenza will have a six-speed automatic transmission and will be front-wheel drive. We are excited about having a luxury model in our lot and we know that with the excitement that surrounded the 2014 Kia Cadenza at the Chicago Auto Show it will be just as big of a hit here in Joliet, IL at Bill Jacobs Kia. This sedan is also slated to be extremely safe and will feature a lane-departure system and adaptive cruise control, both of which are firsts for Kia. If you have considered a luxury sedan, then you owe it to yourself to check out the 2014 Kia Cadenza in Joliet, IL at our dealership. We love this car and we know that you will as well.