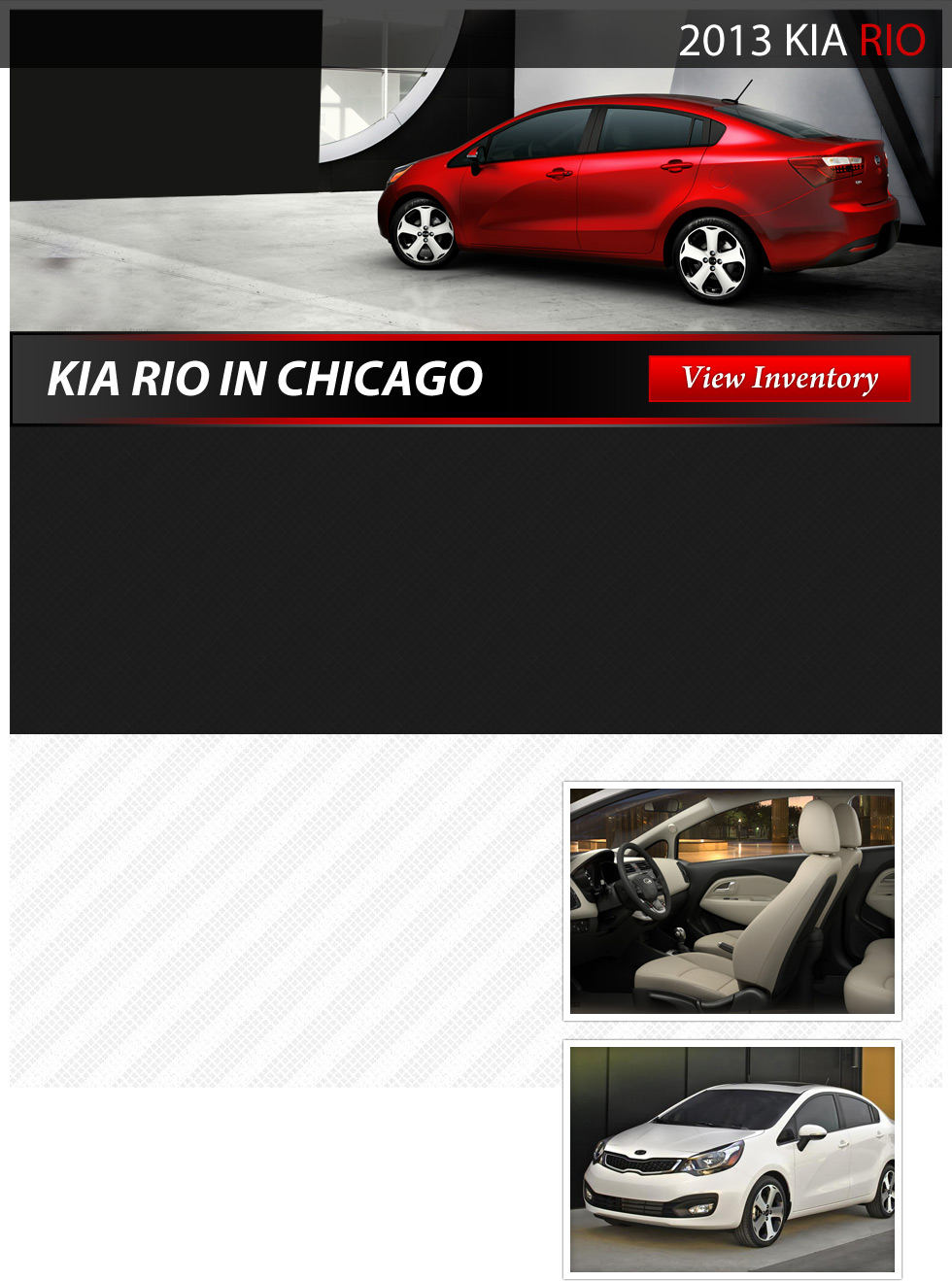 2013 Kia Rio Near Chicago, IL

With the growing number of compact and sub-compact cars on the market today, it is easy to be forgettable. For people to remember a vehicle, it's going to have to be fun to drive, stylish, full of technology and of course a little zippy. Luckily for us and Kia, the 2013 Rio is anything but forgettable. The 2013 Kia Rio near Chicago, IL is one of the best sub-compact cars available today. Not only does it look great inside and out, but it also is comfortable, which is hard to find in a small car. Like most cars in its class, the Rio is available in either a hatchback or sedan model and we love both. You can get up to three different trim levels in both of these cars and all offer plenty of features. If you love a small sub-compact car that can get up and move when you need it to and sip fuel when you don't, then you need to check out the 2013 Kia Rio near Chicago, IL at our dealership.
2013 Kia Rio in Joliet, IL
When you come into our store and test-drive the 2013 Kia Rio in Joliet, IL you'll notice something that you've been missing in every small car that you've ever driven, fun. The Rio offers more than ever in its engine, transmission and the overall performance of the vehicle. With plenty of horsepower, 136 hp and a standard six-speed manual transmission this car is absolutely incredibly. Of course you can opt for the six-speed automatic if you so desire, and either gives you the zip that you have been pining for. The EX Eco trim package offers a fuel-saving automatic start/stop technology as well, so that you can save even more gasoline.

The 2013 Kia Rio in Joliet, IL offers plenty of amazing features such as up to 17-inch wheels in the SX trim and a sunroof, keyless entry and heated seats. You can even opt for leather and a navigation system if you would like. Heated power mirrors, air conditioning and Bluetooth comes standard in all models. We will make sure that no matter what car you buy, you won't have to worry about missing any of the features you are accustomed to. We know that you'll love the 2013 Kia Rio in Joliet, IL at Bill Jacobs Kia and we hope you'll come check one out today.